On-site welding and site capability.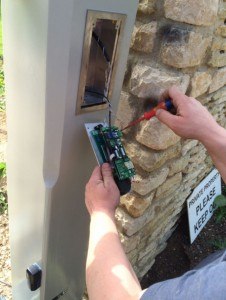 With 25 years of experience of manufacturing, installing and servicing gates we are able to offer a full repair service for existing installations of any make. With in-house fabrication and on-site welding capability we are able to carry out physical repairs to gates, hinges, drive couplings etc. We have a Hiab type crane equipped truck enabling us to lift heavy gates and a mini-digger for ground work.
Automation, intercom and access control servicing.
With our experienced team of gate specialists we able to work on all aspects of the automation and access control.
Safety Survey
We offer a free safety survey for all new clients and can advise and implement any work needed to bring the installation up to the required safety standards. We have force testing equipment that allows us to check the reversal forces and time when the gate meets an obstacle to verify its compliance with the regulations. Contrary to popular understanding it has now been established in a recent court case that current installations need to be safe – in effect this means that they need to comply with the regulations.
Routine servicing/safety checks
It is a legal requirement for companies and organizations (eg landlords, schools etc) to have the safety of their installation checked annually. In effect this means an annual service as it is cost effective to do both at the same time. We offer routine service contracts on whatever frequency is suitable for the site. We do not "lock" you into the contract. But simply call you to advise that a visit is due and then invoice after it has been carried out. It is most cost effective for breakdowns to be covered on an individual basis.